What is the Cambridge C1 Business Higher (BEC H)?
C1 Business Higher (BEC H) is a Cambridge English language examination that certifies candidates' proficiency at CEFR Level C1, aligning with the Common European Framework of Reference for Languages (CEFR). While akin to the C1 Advanced (CAE), this certification places a distinct emphasis on Business English. Successful candidates showcase their ability to wield the language proficiently and purposefully within a professional context.
Learn more about the Cambridge English Scale.
Who benefits from the Cambridge C1 Business Higher (BEC H)?
In Switzerland, C1 Business Higher (BEC H) holds significant relevance as the final school-leaving exam following HF programs (Höhere Fachschule) or (Fachhochschule) studies in Business and related fields. Additionally, candidates in the corporate sector leverage C1 Business Higher (BEC H) to elevate their English language skills to CEFR Level C1, with a specific focus on business English.
Why pursue C1 Business Higher (BEC H)?
C1 Business Higher (BEC H) enjoys widespread recognition among Swiss companies, signifying a complete CEFR C1 qualification. Beyond its immediate advantages, this certification serves as a robust foundation for those preparing to undertake the next-level Cambridge English exam, the C2 Proficiency (CPE) at CEFR Level C2.
Master Business English at CEFR Level C1 with C1 Business Higher (BEC H) and position yourself for excellence in the world of business.
Important update: Changes to Business English Certification in Switzerland from 2024
The Cambridge Business English (BEC) exams will be discontinued by Cambridge globally. In Switzerland, the last BEC exams will take place in June 2024. But don't worry, we have the next generation BEC: new Linguaskill Business launching in 2024.
Find out more about Linguaskill Business Certified here.
Format of the exam
You can take your Cambridge exam in two ways: on a computer or on paper.
| Paper | Content | Marks (%of total) | Purpose |
| --- | --- | --- | --- |
| Reading (1 hour) | 6 parts | 25% | Shows you can deal confidently with different types of text. |
| Writing (1 hour and 10 minutes) | 2 parts | 25% | You need to be able to write a variety of different items such as memos, letters, emails, reports and proposals. |
| Listening (about 40 minutes, including transfer time) | 3 parts | 25% | You need to be able to follow and understand a range of spoken materials, such as presentations, interviews and discussions. |
| | | | |
| Speaking (16 minutes per pair of candidates) | 3 parts | 25% | Tests your ability to communicate effectively in face-to-face situations. Your Speaking test will be face-to-face with one or two other candidates. This makes your test more realistic and more reliable. |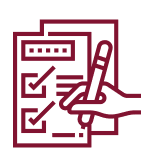 Register now in Switzerland - selection of your test date, location and other details for all levels of Cambridge English Exams