What is Cambridge A2 Key (KET) exam?
A2 Key (KET) is an official and valuable Cambridge English Qualification at pre-intermediate level of English proficiency. It is targeted at Level A2 of the Council of Europe's Common European Framework for languages (CEFR) by scale score 120-139.
Learn more about the Cambridge English Scale.
What can you expect at Level A2 with Cambridge Exam A2 Key (KET)
At basic Level A2, typical users can be expected to:
understand and confidently use everyday expressions and basic phrases
introduce themselves and answer basic questions about their personal details
interact with English speakers who talk slowly and clearly
write short, simple notes and messages
Who takes Cambridge A2 Key (KET) exam?
In Switzerland the official A2 Key is mainly used by secondary school students which usually take it at the end of the 3rd year at secondary school. In some cases, motivated primary school students with the necessary background taking the A2 Key at the end of primary school. However, teenagers and younger children usually opt for the "for Schools" version of the test: A2 Key for Schools (KET S).
There are also adults who decide to prepare for and take the A2 Key (KET) exam, mainly if they have not acquired any English language skills during their school time or did not have the opportunity to develop English language proficiency during their career.
What are the benefits of a Cambridge A2 Key qualification?
For teenagers and young adults, A2 Key (KET) reflects their dedication and determination to achieve their goals. Holding an official A2 Key (KET) certificate serves as a testament to their commitment and can significantly enhance their curriculum vitae (CV) or job applications, making them more appealing candidates for apprenticeships or jobs.
Cambridge A2 Key (KET) is a student's gateway to pre-intermediate English proficiency, empowering students to communicate effectively and reach new opportunities in education and the workforce.
Register today to embark on your journey toward language excellence.
Format of the exam
You can take your Cambridge A2 Key English exam in two ways: on a computer or on paper. Exam length is about 2 hours.
| Paper | Content | Marks (%of total) | Purpose | |
| --- | --- | --- | --- | --- |
| Reading and Writing (1 hour and 10 minutes) | 9 parts/ 56 questions | 50% | Shows you can understand simple written information such as signs, brochures, newspapers and magazines. | |
| Listening (30 minutes, including 8 minutes' transfer time) | 5 parts/ 25 questions | 25% | Requires you to be able to understand announcements and other spoken material when people speak reasonably slowly. | |
| Speaking (8-10 minutes per pair of candidates) | 2 parts | 25% | Shows you can take part in a conversation by answering and asking simple questions. Your Speaking test will be conducted face to face with one or two other candidates and two examiners. This makes your test more realistic and more reliable. | |
Computer-based exams for convenience
Cambridge A2 Key (KET) exams are available in a convenient computer-based format. There are numerous advantages to taking your exam on a computer including flexible dates, convenient and modern locations, efficient systems as well as speedy results. Read more about digital assessment and its benefits.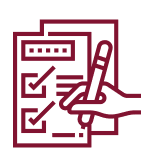 Register now in Switzerland - selection of your test date, location and other details for all levels of Cambridge English Exams